Finally I join the papertoy world again and enter a contest….

(popsetpaper.com, Happy Colours' Attack)
But for I can't finish the papertoy in time 🙁 (my live is changed a lot!)
(participate)
Damn I just couldn't get more time in the design/build… I wanted to compete but there are more important things to do…
I could be sad, but I'm not, so instead of winning a contest
Ishare the end result with you (this is my blog so why not):
I introduce to you:
Squeezzrr
a C-Myk papertoy
(and my first Shin Tanaka custom)
Squeezzrr front-shot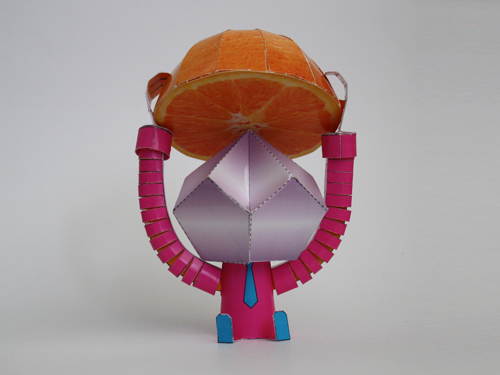 Squeezzrr side-shot
My creation is based upon the fact that Shin got inspired by a drop of water. The (head-) shape he created made me think of an orange squeezer and I decided to make a character based upon that.
Some minor changes to the original design: shortened the 'head' and removed/replaced the arms with my own design. And of course an orange!
Hope you like it.
Update #1: I have added Squeezzrr also to the gallery of Pop'set. It will be visible in 48 hours :D. To bad that there is no like button anymore 🙁
Update #2:
I was missing the possibility to "like" this! So now you can do that here:
like me on facebook
. So like me alot 😀