I decided to share a "hobby" of mine (read more about my "hobbies").
But I will only share the cool part of it: I'm talking about urban papercraft.
The cool customizable paper toys who are similar to that of the vinyl scene.
Shin Tanaka is my favorite (well …. I can't find a lot of builders who approach papercraft with a urban style). I like the simple shapes he uses to create the figures and that they fit on one pace of paper. But what makes him a genius is the fact that he makes DIY paper toys. And it works…. I want to design one too. So this will be added to my wish list. I especially like the GRITTY.
An example: darkimey X GRITTY



One of the master himself: QRCOD GRITTY

So if you have some spare time try one of these: the custom designed paper model collection especially made as a canvas for graffiti writers and designers who want to present their work for public! Or design a SPIKY BABY or GRITTY
Basic Spike from the SPIKY BABY [SERIES 3] – box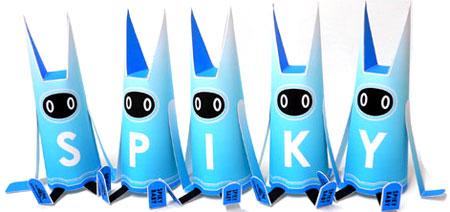 << An example from bicho
The only "comment" I have about Shin that his portfolio-site doesn't let us see everything he made in the past: he also made some papercraft based on figures from Michael Lau (Michael Lau creates bad ass figures!!): Davy (red), Davy in different colors, SF.M.L.F, and a "Special Paper Model Download Page" in English.
Update #1: An article about Shin Tanaka can be found Pingmag – The Tokoyo-based magazine