I always wanted to do a papertoy sneaker. The bad thing is that a few papertoy designers did this before me.
And I don't want to do something that someone else already did before me. So no urban paper sneaker for me…. Till my girl bought a pair of PUMA sneakers: they are awesome!
So I just googled a little bit about for limited edition PUMA sneaker and it convinced me to do a papertoy PUMA sneaker.
My urban paper PUMA sneaker is loosely based upon PUMA First Round model (check the online shoe customizer: PUMA MONGOLIAN SHOE BBQ)
The blank template:

My own design: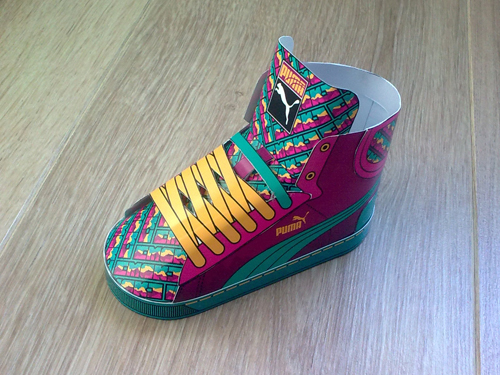 I don't have the templates ready for publising, so you have to wait for that a little bit.
(or ask leave a comment so I can send what I have now)
Perhaps in the future I will make the model more detailed!
I don't have to mention that the PUMA logo is not mine, right?