This is my first of my monthly "big" – post (read more about the changes I will make this year).
I had this lying around for some time (made it before Christmas), but didn't take the time to finish it.
For the first time I had a WIP test builder (Jason Bolt) and that helped a lot.
Especially because I had some pressure to finish it!!
And as promised it will be down-loadable; I present:

Brummble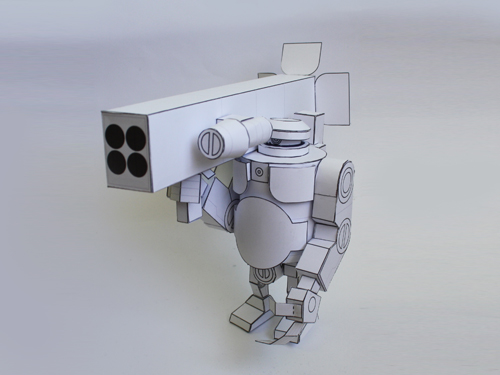 Brummble is a papertoy tribute to the awesome vinyl from ThreeA: Heavy Bramble.
I wanted to see how fast I could "papertoy" a vinyl (about 3 nights (3*4hours) and some extra hours for 'bugfixing some 'lite' instructions and photos). The instructions are very minimal, so some it's not a beginners project. You will need 5 pages, my advice is to use 120/160 gram paper (heavier than the usual printing-/copy-paper). It will take about 4 hours to cut out and build.
Blank template
Not a print this time? No I don't think it needs more, but you may always surprise me with a custom!
5 pages
Yes it's not a small papertoy, but the result will be very close to the original!
and show me/the world the pictures!!
The .ZIP file contains a .PDF
(You can use freeware like FilZip or 7zip to extract a .ZIP-file and read a .PDF with Acrobat or Foxit)