In one of my rss feeds I came across the papermodel of Optimus Prime (yeah: nerd I know..)
I am truly amazed at this papermodel: it's almost as good as a action figure. It has joints that move freely and smoothly but the best of it all is: it transforms into a truck: this papermodel is a real transformer.
Paperrobots1999.com has 4 models with the same flexibility, but I want to focus on the blank robot version.
I've written about my definition of urban-papercraft and I was not sure if this model would fit my definition.
Until I read the story about another model of Paperrobots1999.com: the Kami Robo the Birdman.
This model is based upon the works of Tomohiro Yasui, who created over 200 of these papercraft wrestlers with there own name and a well-defined personality. And these wrestlers slug it out at kami-robo.com so check that out.


And so I started to realize that the blank robot is indeed a urban papercraft.
And for the inspiration you can check out the gallery of wrestlers made by Tomohiro Yasui.
Here two of my favourites:
Genie (King of evil)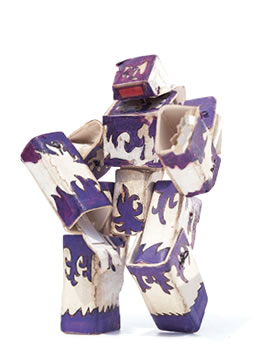 Shark Hawk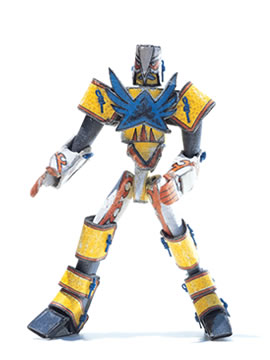 And check out the rest of the wrestlers
Our check this video at YouTube – Kami-Robo Part 1:
(thx Kamiel for pointing me to this video)
[swf]http://www.youtube.com/v/yDgLpzKoeKc,425,350[/swf]