I feel ashamed, and I should! This custom is laying around on my virtual desktop for a long time now.
And it's really great!
I present: Little GrummerBoy a Grumm custom by Hardy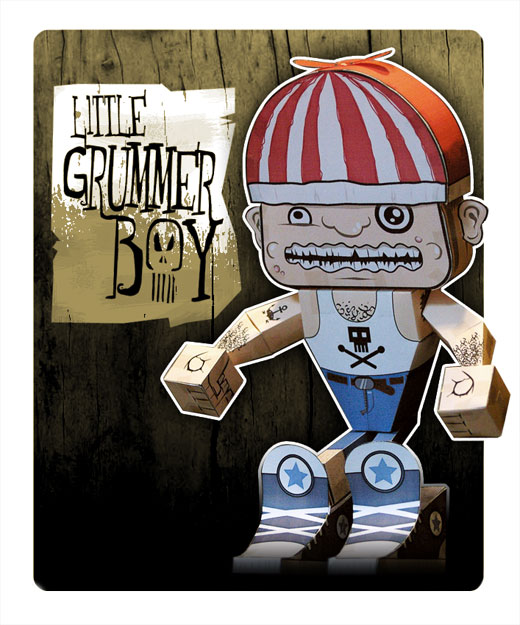 The .ZIP file contains a .PDF
(You can use freeware like FilZip or 7zip to extract a .ZIP-file and read a .PDF with Acrobat or Foxit)
So lets start introducing: Hardy a German graphic designer and allround creative.
You can visit Hardy on his own blog: thepaperjam.de, it's in German so not readable for everyone 🙁 .
More into English? Perhaps you should visit him on myspace: Hardy has the most awesome myspace I have ever seen which is dedicated to his papertoy Bottecc.

You can download the Bottecc templates at the bottom of page, just search for "bottecc beta template". (it's a illustrator EPS, he should to change that to PDF… oh well!)
But that's not all, Bottecc is a papertoy wrestler… Yes you heard it correct.. This papertoy can busta move:

As Hardy put it:
i started working on bottecc with the idea to make a papercraft that can really move and wrestle like the good old wwf-stars.
The subtitle of Hardy's site is "Paper wrestling association"!
Too bad that the idea is not finished yet. I would love to send a Grumm into the ring 🙂
I don't think there many papertoys out there that can beat Grumm 😀