As I mentioned before: I always wanted to do a papertoy sneaker.
When I finished my first PUMA sneakers, and posted it on NPT (Nice Paper Toy), some people mentioned that they liked the model but that there favorite PUMA sneaker is the states/suede/clyde.
I didn't know that the PUMA states/suede/clyde is a b-boy classic.
So I couldn't resist to make them too: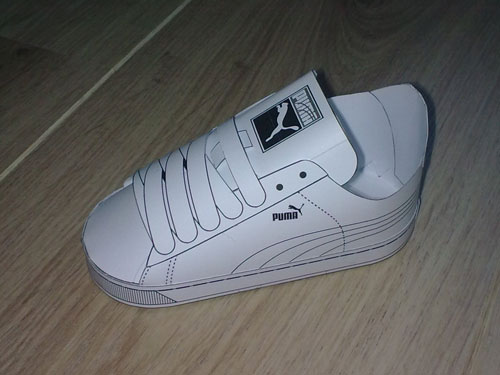 I don't have a download link for this one, and no design yet….
But that will be fixed very soon.
PS.
The excellent Ron Rementilla from Paperkraft.blogspot.com has written about my PUMA First round papertoy (thx for that).
And suggested that readers who wanted a template, leave a comment….
Till now 10 people did and they have received the (WIP) templates…
I call the templates WIP because the instructions are not ready yet.
And because I wanted to make the PUMA clyde first, they are not ready yet.